Our ROR developers are real IT experts who can write, design, develop and implement new software for the Ruby on Rails framework. But what exactly do our developers do? Let's see with the help of our blog.

The Ruby on Rails developer pool is highly functional, making it difficult for recruiters or HR experts to find a suitable candidate for their team. The best Ruby on Rails developers will have excellent technical knowledge and fit into the company's culture and communication style.
Use our Ruby on rails expert checklist to identify your company's needs and find the ideal candidate. We'll review what every recruiter or HR professional should know, including RoR developer traits.
RUBY ON RAILS DEVELOPER RESPONSIBILITIES
To write, design, develop and implement new software and application in Ruby.
Design and development of new web applications
Upkeep and troubleshooting of existing web applications.
Write and maintain trustworthy Ruby code.
Bringing data storage solutions together.
Developing back-end components
Detecting and correcting bottlenecks and bugs.
Why Ruby on Rails?
Rails provide a comprehensive set of functions for the development and operation of a web application, including
Access to all relevant database systems
Controller implementation
Respond to WWW inquiries
It has its own template functionality for preparing data.
It also has its own routing engine for configuring query and response behaviour.
For better outcomes grab our Ruby on rails developer, they can give you authentic services.

How many developers do we have for Ruby on Rails?
Basically, we have more than 20 ROR developers with an average of 8 years of experience. We completed almost 50+  projects with the best knowledge. They have a better understanding of the syntax of the ruby language. Thus, better ability to read codes.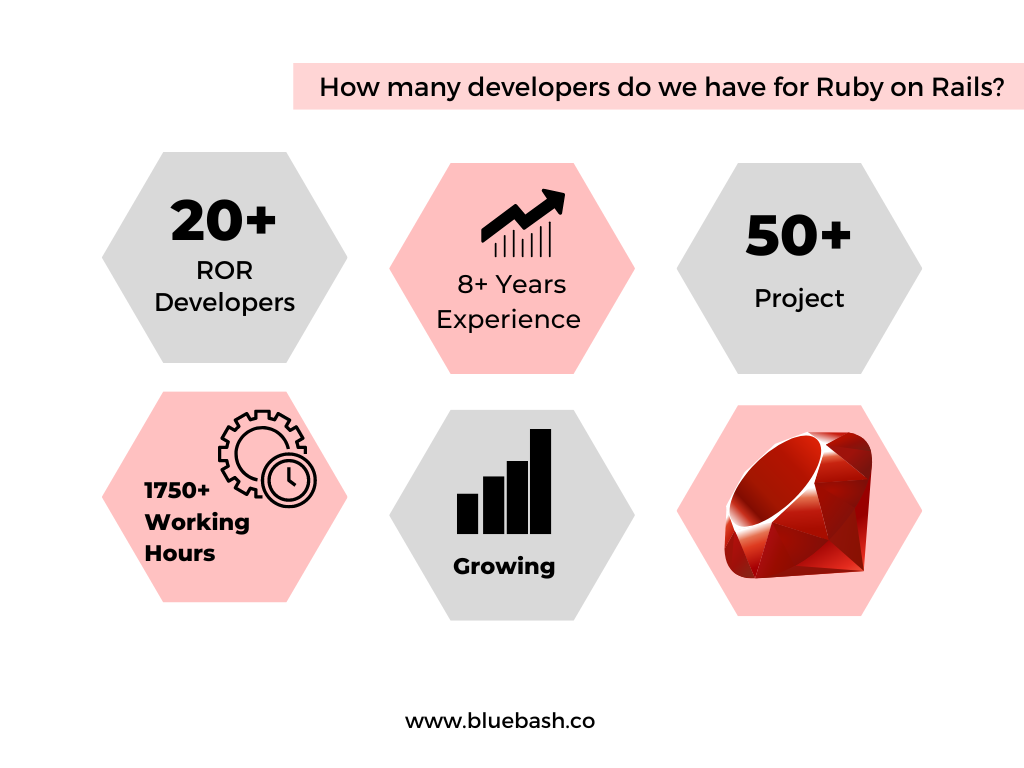 OUR SPECIALITIES:
Quick software development solutions
Reliable and accurate
Efficient developer community
Scalable with quality output
Implements excellent codes

WHY CHOOSE US:
If you're searching for a great Ruby on Rails development company, here is what you need! We come with 8+ years of Ruby experience. We're competent RoR web development experts who can offer your efficient, reliable, and robust solutions in no time.
Our developers focus on the specialities of Ruby on Rails for organisational growth.
Most Ruby on Rails projects is used to develop high-performance web platforms. It is always a suitable option for web applications to program various tasks. Its concise code makes detecting and correcting errors in Ruby on Rails easier.
Bluebash has a broad team of Ruby on rails experts. Give us a call if you need more information about ruby on Rails. We are happy to assist you. We have a wide range of ROR developers who provides your secure and scalable features.
Our team works on the new version of Ruby on Rails
There are numerous organizations that are still working on the outdated version of ruby on Rails. But our Rails developer offers you a robust solution to do work on the latest technology. Basically, they have real knowledge of UI/UX design and cloud, infrastructure.
The Project Execution strategy and development process
Whether you're starting small, or medium or already have an entrepreneur. Our approach to each project is categorized and well-balanced to meet the needs of each client, and our working pattern has always revolved around client satisfaction and quality.
We are considered a Ruby on rails web development company. As we know that every project is unique, and thus requires individualized attention. In addition to the cost, time, and scope, the working model between the 'client' and the 'agency' is critical in balancing the former. So you can contact us for better results.

FAQs

Why do businesses use Ruby on Rails?
Developers use the web framework to quickly create a web application. And it's not just fast; Ruby on Rails simplifies the development process, allowing businesses to scale their projects and easily integrate new features.
How can we help you?
Bluebash is the best software development firm with the knowledge and background that help businesses to create the best software. The firm considers all the strengths, challenges, and main points to reduce costs and enhance speed. Bluebash has a large team of Ruby on Rails specialists. If you need more information about Ruby on Rails, please contact us.
Is it possible to easily scale a Ruby on Rails application?
It can, but it must be built with the possibility of scalability in mind. In other words, when developing an app, a developer must consider the app's future growth and optimize the code accordingly. In the Rails world, the developer's lack of experience usually brings the app down.

However, every other component of an app must also be configured in a way that allows for future scalability while delivering the required performance.

FINAL WORDS:
The Rails way of Web development discharges the tedious parts of the coding, freeing them up to focus on the business features and logic of the app. It also increased productivity and helped developers deliver MVPs and startup apps much faster. The resources discussed above are used widely by our developers at Bluebash.
Looking for a solution? Ruby on Rails is not only an easy and stable programming language. But it contributes to the constant development of other technologies as well. Moreover, companies that used ROR admit the influence on other platforms like PHP, Java, Node.js, and more. So, if you wish to have perfection in your apps and want to stay ahead of the competitors, optimize your app development tools with the dependency management system, preprocessors, template engines, and others. You can give us a call to get the Best ROR software development services.