web development
Multivendor Marketplace Development: A Game Changer For E-commerce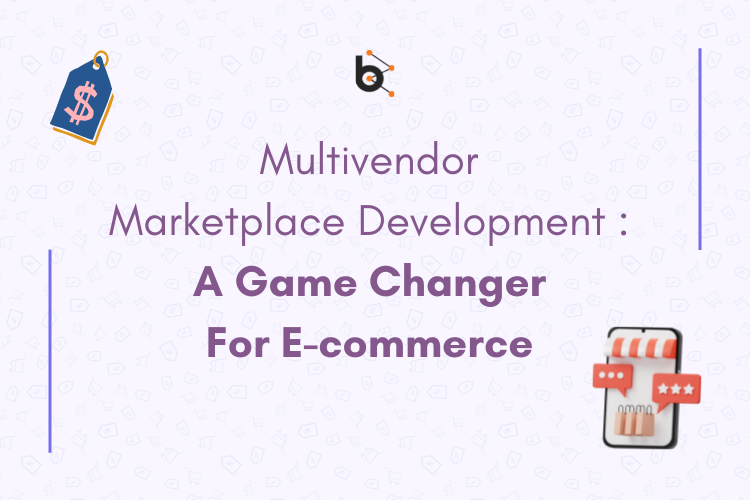 Global Retail e-commerce sales are expected to more than double to close to USD 5.2 trillion in 2021, representing a 56% increase over the following few years. By 2026, it will have reached USD 8.1 trillion. This trend can be seen in several Asia-Pacific and South American countries that have seen a substantial increase in e-commerce usage.
In today's fast-moving digital world, e-commerce has become a crucial component of business success. With the rise of online shopping, consumers can now purchase goods and services from the comfort of their homes, making the e-commerce industry a highly competitive and worthwhile space. It can be time-consuming and expensive to create an e-commerce website from scratch. This causes many businesses to need help to establish their market presence.
A new evolution in online markets is the presence of several sellers. A multivendor marketplace is an E-commerce platform that facilitates the sale of goods and services from several different sellers. This idea has revolutionized businesses' ability to develop an internet presence at a low cost.

Benefits of the Multi-Vendor marketplace to vendors and customers
Multivendor marketplace offers many benefits to customers and vendors. Vendors can reach a broad and diverse customer base without having to create their own websites. It also offers a perfect platform to manage sales and other assignments to minimize workload and help vendors to focus on their main activities.
Multivendor marketplaces offer a giant selection of products and services for customers, providing a one-stop shop for all their shopping needs. Their shopping decisions can be informed by comparing the prices and products offered by different vendors. Additionally, multi-vendor eCommerce platforms often offer a seamless and streamlined shopping experience, including easy payment options and one-click checkout.
Benefits of building Multivendor marketplaces
Cost-effective solutions
Engage loyal customers
Better shopping experience
Controlling inventory is easy
Launch an online marketplace platform with Bluebash
BlueBash is more than a B2B or B2C platform, it's an E-commerce platform that offers the latest Multivendor Marketplace Solutions.

We make it comfortable to begin a marketplace platform with vendors:
We offer the perfect marketplace platform with lifespan updates
Providers high-class technical support and implementation

Bluebash provides expertise marketplace development services
Best software advice for the commercial marketplace
We're here to ensure the success of your online market if you're just getting started.

Creation of the best E-commerce software
Let's create something unique for your online store.

Platforms for managed marketplaces
In our online marketplaces, we provide a fully hosted and managed solution.

Creating a marketplace with multiple sellers takes a lot of work. It is crucial to preserve consumer data and ensure the safety of online transactions. It is essential to work with a Multi-Vendor e-commerce Marketplace Development company that's Bluebash. The platform's ease of use and navigation is also essential, as the quality of the customer's buying experience directly impacts their overall pleasure.

Last words
To sum up, the advent of multivendor marketplace development has been a game-changer in the realm of e-commerce, allowing firms to gain an online presence at a reasonable cost. As a result of the various advantages it provides for sellers and buyers, it is likely to grow in popularity as an e-commerce platform. A multivendor marketplace is a great option for anyone looking to enter the e-commerce market or increase their current operation.
Our multi-vendor E-commerce marketplace service provides the best E-commerce businesses of all sizes to create and conduct a marketplace affordably and quickly.  Whether you are a start-up entrepreneur, small business, or enterprise, we offer compact custom E-commerce solutions.