Most innovative jigs in healthcare technology work for medical treatments and consider transformed processes. Now when it comes to improved technology and cost-effective medical solutions. It is crucial to get efficient care, and healthcare businesses must streamline their internal communication and information flow. ERP software solutions play a crucial role in healthcare.
Healthcare ERP software solutions may achieve better acceptance with healthy features and their ability to consider low rates and high patient needs. Its basis on business management software solutions, and ERP for hospitals and assists organizations in various situations to manage operations like databases, user interfaces, and applications.
What Is An ERP System In Healthcare?
An ERP system is a technological software solution designed to improve departmental communication and monitor data. Besides automating operations, software ERP solutions help businesses streamline information, break down data silos, and make sustainable decisions based on insights. Now, let's look at why you need ERP system solutions for your business. To get perfect services you can consider our company.
Bluebash is an excellent ERP solution software company delivering top-class healthcare solutions. As an advanced healthcare application developer, we are known for our ability to support fast-paced medical ecosystems. With Bluebash ERP software solutions one can achieve better acceptance with healthy features. We can consider low rates and high patient needs. As we focus on the best business management software solutions.
Role of ERP in the Healthcare system
ERP for healthcare is profitable when it comes to managing core business processes like HR, Finance, and customer relationships. Healthcare usually grapples with two main objectives:
Deliver quality care to patients
Deliver quality care at a reduced cost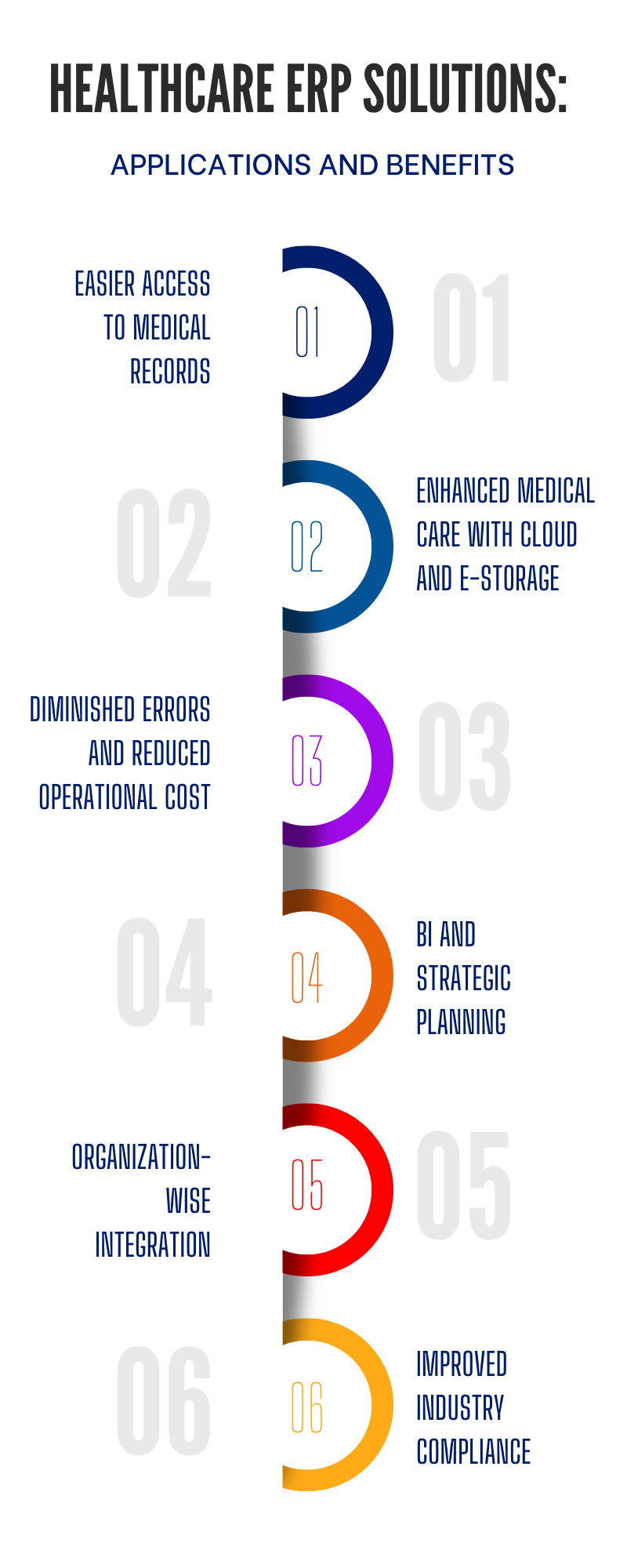 Our Specialities:
Inventory Management System
It is complex to manage an inventory at a large company. Predictive analytics enabled by Bluebash ERP systems provide manufacturers, retailers, and suppliers with useful insights. as the best ERP software solution provider. Furthermore, our ERP inventory management system would enable your company to use the best stocking strategies.
Seamless Data migrations
Our Team of ERP Software developers delivers the utmost quality of migrating data from their current ERP platform to the developed platform while using an innovative combination of next-generation technologies and expert migration strategies.
Zero Hidden Costs
Pricing transparency is a defining characteristic of our custom ERP solutions. With Bluebash, you are always in control of your ERP system cost and maintenance because you pay only for the platform and data storage, not for the level of automation, customization, or third-party integration.
Accessibility
There is no longer a need for employees to hunt through piles of paperwork. By having a common database, all decision-makers are on the same page. We offer a cloud-based ERP solution that allows warehouse managers to check inventory while on the shop floor, or sales representatives to check inventory while at a customer's site
What makes Bluebash unique as ERP software development in comparison to others?
Custom ERP Solutions
Using on-premise, mobile, and web-based platforms, the Bluebash ERP Software Developer oversees the design and development of scalable, enterprise-wide ERP systems. We create modules and automate workflows to create the perfect ERP solution by customizing off-the-shelf ERP solutions.
Extension & Plugin Development
Our ERP system is built and maintained from data to design, development to performance management. We design, develop, and implement custom extensions and plugins to enhance your custom ERP solutions with additional features, modules, and functionalities.
ERP Consulting
Identifying incompatibilities of disparate systems, we assist in integrating and migrating critical ERP systems for your business. At Bluebash, we ensure data integrity and zero downtime across your organization by deploying and configuring custom networks, servers, security, and data storage.
Cloud-Based ERP
Cloud ERP makes it possible for users to access ERP software over the Internet via Software as a Service (SaaS). Our cloud ERP software has much lower upfront costs. The Cloud ERP software system designed in such a way that a company can access any major business application from anywhere at any given time.
FAQs
How long does it take to implement an ERP?
The simplest answer is that implementation times can vary depending on the size of the company, the number of software functions required, and the amount of customization required. However, in our experience, our Bluebash ERP takes three to twelve months to implement.
When selecting a new ERP system, we strongly advise businesses to consider the degree of customization required. Extensive software customization can not only be expensive, but it can also cause the software's Go Live period to be delayed. At Bluebash, we take pride in providing a flexible and configurable software package that can be adjusted to meet the needs of many clients without extensive custom development—this helps ensure that our implementation timelines are met and the project stays within the original projected budget.
What is the distinction between an ERP system and a collection of software applications?
We've all had to deal with information silos as a result of various types of software: creating an Excel file with information that must be re-entered into a cloud app, printing invoices, and POs, sending them for sign-off, and scanning them back into the system. Managing large amounts of information through multiple software systems can become complicated, and things can fall by the wayside.
A great ERP, on the other hand, provides full integration across all departments, ensuring that information entered from one point is immediately available to users with access across the organization. This cuts down on wait times and human error.
How simple is it to use the ERP system?
It is critical that an ERP system, or any software solution for that matter, is simple to use for both the individual user and the business. Ease of use encompasses daily user experience and how it integrates with other systems and software solutions in the business.
Wrapping up
To regulate departmental communication and operational flow it is mandatory to consider ERP. Most organizations do not believe in opting for the system, but it can offer you multiple benefits. Nowadays, a large number of businesses use ERP or Enterprise Resource Planning. In general terms, the ERP is a system by which a company manages and integrates different internal and external parts of the entire organization. Through various modules, it automates this activity through an integrated software application that covers the common functional areas of the company. These modules can be implemented in stages and can be customized.
To conclude, before implementing a new ERP software solution system, we must evaluate what our business needs and the cost of adapting it to its structure. It is important to think about our business strategy and how the ERP can use to achieve the organization's goals.
The company must invest resources and time into the process. Having a clear understanding of the system, its advantages, and its disadvantages can help the company to achieve its goals. The best ERP solution software company in India is Bluebash.