web development
How Can EHR Software Increase The Quality of Healthcare Delivery?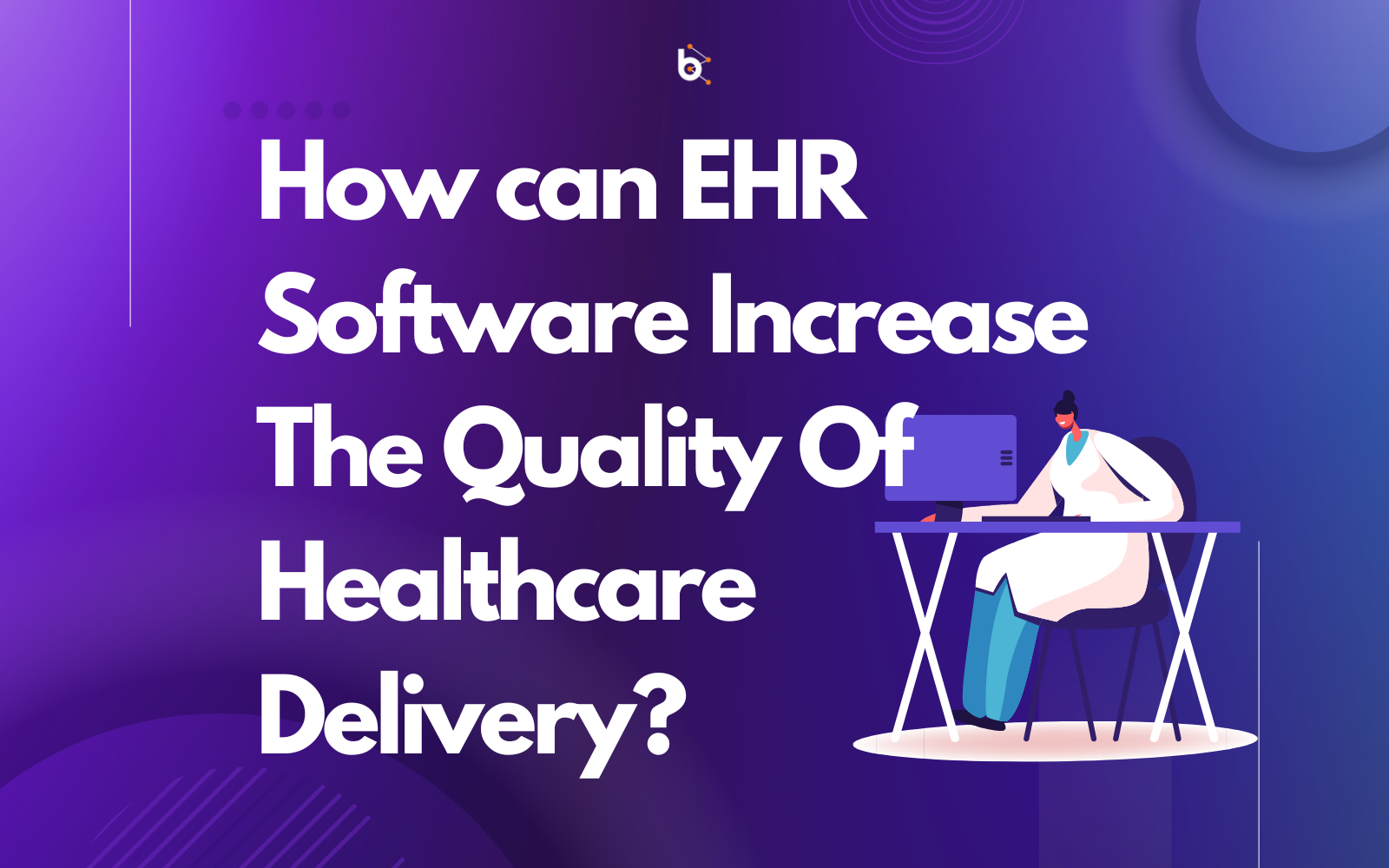 These days the market offers thousands of market developments and healthcare IT developments as it proves so beneficial for your organization. The main reason is that once the company can offer different kinds of services, it began with tech inventions and offers services to more efficient clients, and create and manage medical records easily. Nowadays EHR is successfully adopted by numerous organizations; it considers a perfect trend that is going to get certain in the future.
It has repeatedly proven to be highly beneficial to medical professionals. Advanced medical equipment, telehealth, powerful CRMs, and, of course, Custom EHR software development not only simplify workflow but also improve medical service quality. Modern IT innovations allow healthcare workers to focus on the main goal of healthcare: protecting people's health and saving lives, rather than wasting valuable time handling endless copies of various documents.
How Does Electronic Health Record Software Work?
Power-packed miniaturized technology solutions have revolutionized every aspect of our lives today. There are no limits to how much information one can access with a few clicks and scrolls.
This may be crafted to sort out all the healthcare needs. Technologists may work in their way to build dependable healthcare and work in tough areas and times as well. Bill gates rightly said:
"By giving us comprehensive access to our personal health information, digital technology can make us all change agents, capable of pushing for the one thing we all care about: A medical system that focuses on our lifelong health and prioritizes prevention as much as it does treatment."
Electronic healthcare services or EHR may work for the same purpose in almost every organization. To create an extensive portfolio works for an individual and healthcare provider. It is accessible by both as they both know this. Healthcare can be made more wholesome with EHRs. They also serve as rich data sources for those who plan healthcare accessibility, policies, development, and financial coverage.
In addition to the benefits of developing EHR software solutions, a highly technical field, it has even more benefits.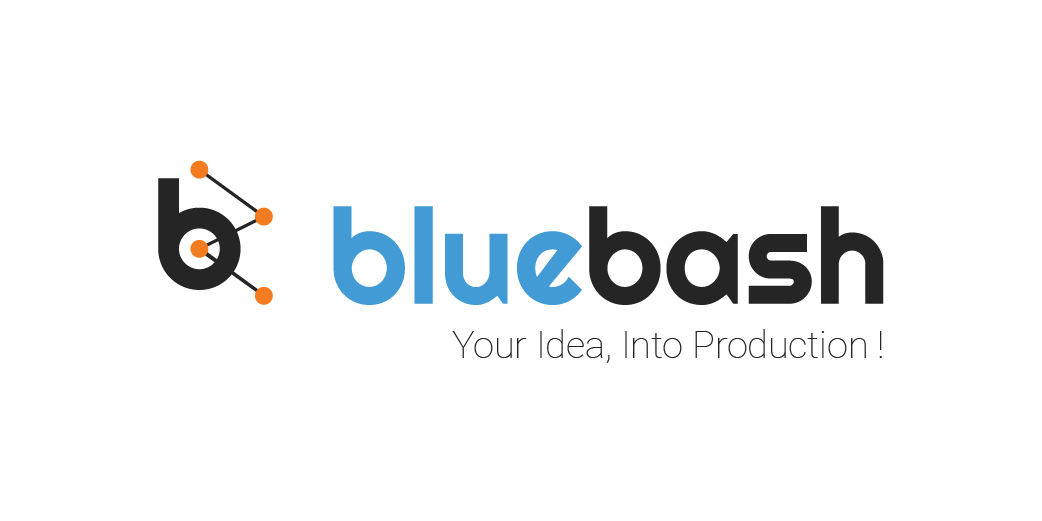 Bluebash LLC
The Bluebash team is a forerunner in providing fitness and health app development solutions that benefit people worldwide. With the assistance of our industry leadership, we can provide digital, advanced, and customized healthcare Software solutions.
Bluebash specializes in customizing and creating futuristic medical and healthcare software.
We work with perfect methodologies to make sure your app grows with us. To develop and deliver high-quality healthcare and fitness applications, scrum masters are essential to ensuring effective communication and coordination between the development team and the client.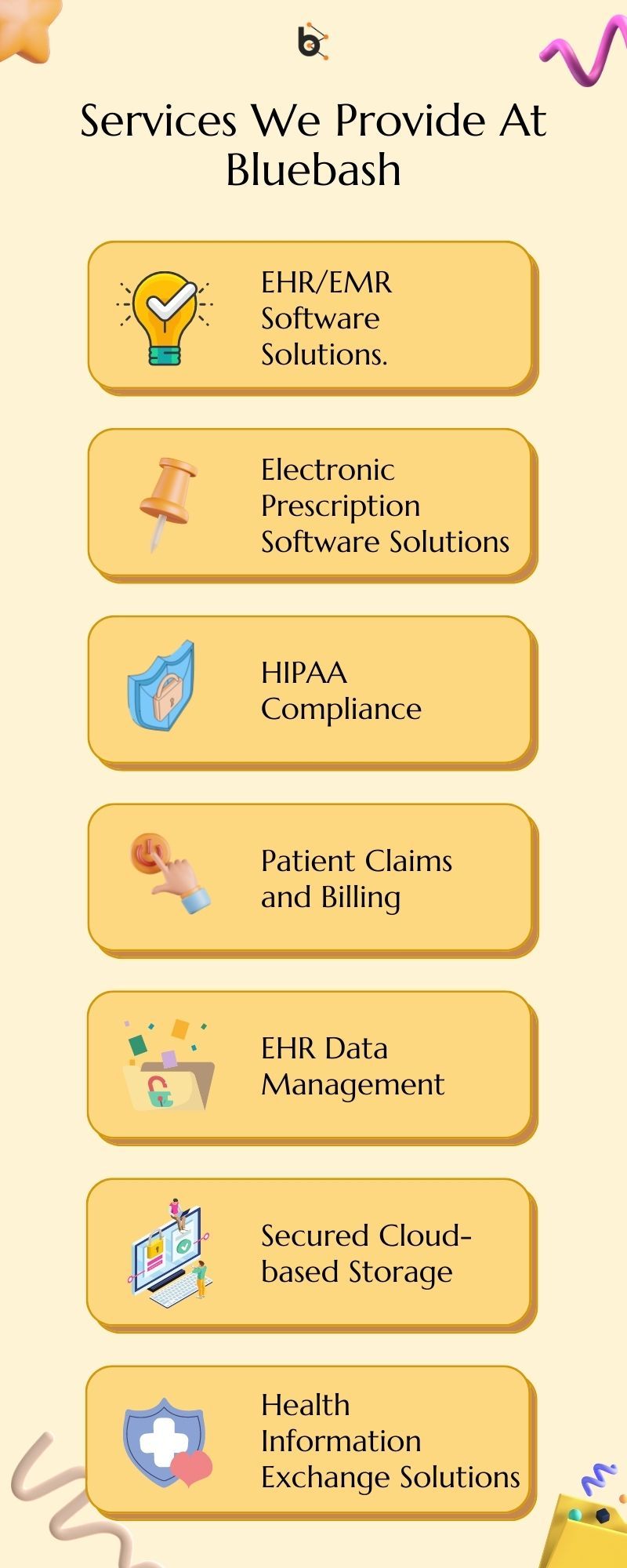 Why should choose a perfect organization that is specialized in Healthcare?
To remove all the complications regarding healthcare software development concerns from our specialists. we are always concerned about the needs of EHR that producers and customers can easily get. We Always install it in an organized matter, to avoid mistakes. Most patients want to get the benefit of health care providers along with their needs. Although the shift indulges from the paper-based to digital system that takes much care of industry compared to others.
WE WILL SET UP A COMPREHENSIVE PLAN FOR CLIENTS
Providers should strive for dynamic patient-centred records that track the patient's care continuum throughout their lifetime, in sickness and in health. Having a single, continuous record for a patient allows our company just offer a more holistic view of overall health, allowing for better diagnosis and treatment over time. We are recognized as a professional Healthcare Software Development Company.
WE MAKE PERFECT 1500 CLAIM FORMS WITH RAILS
Getting a claim is not a big thing. You just need to properly work on understanding the claim process. With the help of Trizetto, we can manage to sort the issues of more than 1500 persons. It helps numerous patients to sort out their complications.
ALWAYS PROVIDE SMOOTH-RUNNING WORKFLOWS
As we all know that EHRs can increase efficiency and productivity while managing paperwork. Most of the time patients and staff have less time to deal with it easily. Referrals and prescriptions have the opportunity to set up an appointment quickly. We offer integrated patient tracking, billing, and insurance claims that can be filed promptly.
HELPS TO ACHIEVE GREAT EFFICIENCY AND FEWER COSTS
All the digital records and integrated communications cut down administrative costs and reduce the need for transcriptions, physical chart storage, coding, and claims management, as well as facilitating care coordination and shortening.
The time it takes for hard-copy communications among clinicians, labs, pharmacies, and health plans, are just a few examples. Our team always works to achieve all the goals. Electronic health record software can manage all your patients and help them.
WE ESTABLISH BETTER COORDINATION
Along with digital records, it is easy to coordinate with anything and track payments to get across facilities and practices. So always go with a perfect company that offers you specialized services. We at Bluebash establish better coordination with the clients. Our team always deals with high facilities and discipline that can easily collaborate with the patient.
WE HAVE THE ABILITY TO REDUCE ERRORS
To reduce all the errors in healthcare it is crucial to track down the overall system.
We help to get a better track that aids in standardized documentation of patient interaction. It helps them to enjoy the fullest. As we offer full potential services, Ehr software solutions to our patients.
TOP MOST FEATURES ON WHICH BLUEBASH WORKS

- Prescription Report
- Patient Dashboard
- Email and SMS appointment
- Practice Management
- Push Notification
Payment Gateway Integration provides you to accept payments via cards, wallets, or online banking. We offer the best EMR/EHR integration facilities.
WHY CHOOSE US:
To get the perfect kind of EHR and EMR software development services, you just need to search for a perfect company. We at Bluebash fulfil all the demands of our clients. First, we know about their needs, then we start working on them.
BETTER SOFTWARE MAINTENANCE SERVICES
WE CAN IMPLEMENT AN EHR AT A LOW COST
TO FULFILL ALL THE DEMANDS OF CLIENTS
WE SERVE AS A CLOUD SERVICE PROVIDER
FAQs
What are the main features of electronic health record software?
EHR software systems include several tools and features that provide the following capabilities for your medical practice. The strong platform allows for immediate and secure access to the patient's records and information. It includes charting tools for providers such as note creation and voice detection. The software systems also provide medication prescribing and lab connectivity. To get custom EHR Software you need to give us a call from our experts.
How can an EHR software system help to improve patient care?
Because of automation, physicians spend less time manually charting patients and writing prescriptions for them, allowing them to focus on what they enjoy most: caring for their patients. Healthcare providers can easily refer to previous notes via the EMR software system and the interoperability option in your software systems. We offer perfect coordination between different providers to further improve patient outcomes.
Will EMR software be able to improve functionality?
Yes. Because it has an electronic patient check-in feature, EMR software can help you increase and improve your efficiency. The EMR software can also be used to effectively access any records 24 hours a day, seven days a week. EMR software is a versatile transcription tool. The electronic medical record software includes an instant messaging feature that allows users to communicate easily and quickly. Patient summary information in EMR software can be easily customized to view specific details. All of these EMR software features can improve the functionality of your healthcare practice.

Conclusion
Although EHR systems are expected to improve overall performance, their implementation is a complicated undertaking. This systematic review investigates the causes of this complication and presents a framework of 19 interventions that can assist in overcoming common challenges in EHR implementation. This framework can be used by implementers to develop effective EHR implementation strategies for organizations.
The Bluebash team hopes that this blog has helped you better understand the complex but crucial process of EHR software development. If you have any questions that remain unanswered, do not feel suffocated to call us immediately. Our experts will gladly assist you in getting an ideal EHR system!