E-prescription software allows patients to generate and send prescriptions electronically. It has gained traction across all types of medical facilities. Pharmacies are enabled to receive medications directly from providers.

Bluebash's software solution includes numerous options to help its clients. It can work for you in numerous matters and manage the workflows with complete accuracy. E-prescribing is the process healthcare providers use to send prescriptions to a patient's preferred pharmacy. Electronic prescription services can reduce the time it takes to process prescriptions, dispense medications, and obtain refills, among other things.

Medical software plays an essential role in the adoption and use of e-prescribing, as the tools needed are housed within these solutions. Thus medical billing software for billing companies works perfectly in teams of EHR. E-prescription is the use of technology to manage authenticity and boost patients' safety and costs.

Benefits of E-prescribing software solutions:

Cost Savings
E-prescription benefits, such as improved outcomes, increased efficiency, and fewer patient visits, have saved practices between $140 and $240 billion over the last decade. The amount of money saved may even increase in the future as e-prescription systems improve and pharmacies become more comfortable with them.
Track Prescription Fulfillment
E-prescription systems can assist doctors in tracking whether patients have picked up their next refill. As a result, these systems can inform clinicians about which patients are adhering to their medication regimens and which have discontinued treatment. Using this data, clinicians can contact patients who haven't filled their prescriptions to help them get back on track. This practice can help to reduce readmissions and ensure patients complete required courses of treatment, such as antibiotics.
Increased prescription efficiency
Handwriting prescriptions can be both tiring and ineffective in terms of time spent, as they often need to be individually drawn up and authorized. With some e-prescription systems, clinicians can automatically refill dozens, allowing them to review them. This can both increase efficiency and minimize the prescription error rate. Patients who have lost their medication can also get an emergency refill from their doctors.
Reduces Pharmacist error
When it comes to making a comparison to handwritten prescriptions, E-prescription is more valuable and error-free. It can help the patients manage their overall work to record their history of patients. This has the potential to reduce prescription and medication errors. It can also help ensure that patients have the most up-to-date information about how to take a specific drug.
In the worst-case scenario, e-prescriptions can reduce the risk of an incorrect dose, which can easily waste time or even cause harm to a patient.

Our professional offers efficient and value-based solutions: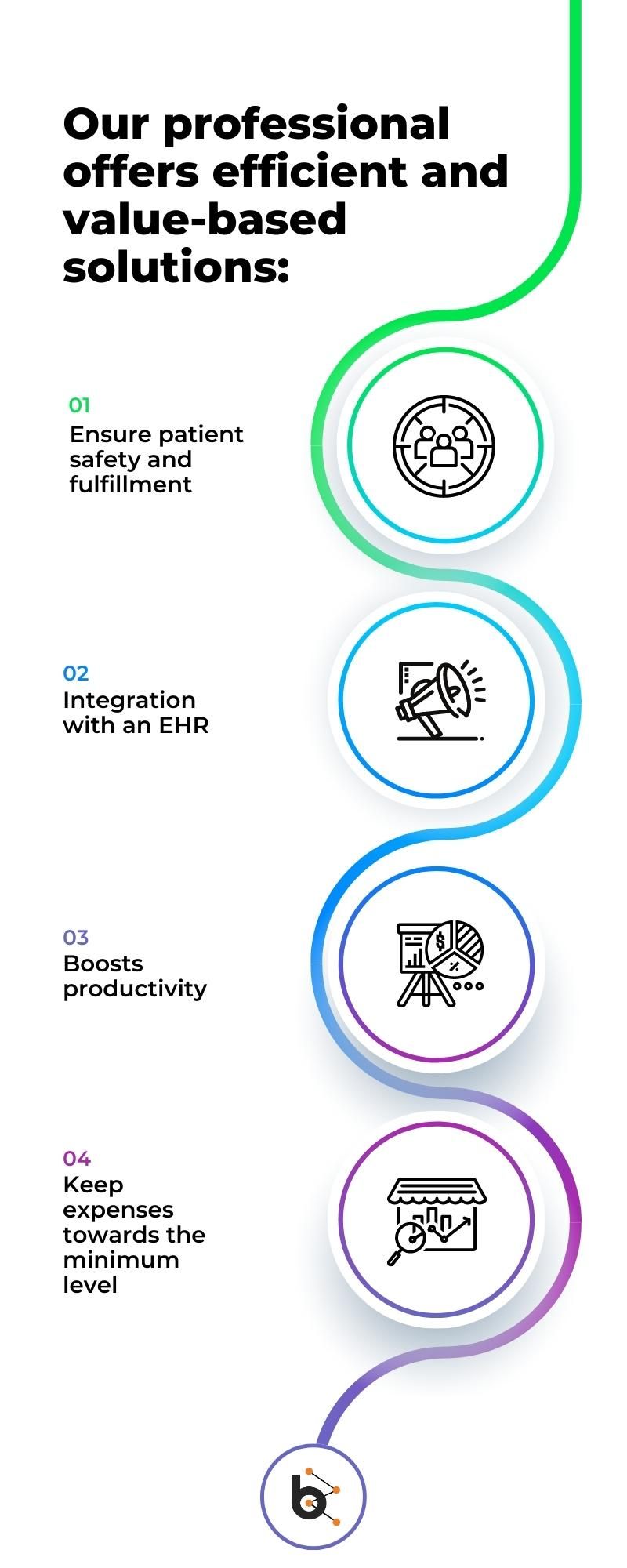 Are you wondering about the best EHR with E-prescribing software?

Of course, it is crucial to consider the best e-prescribing vendors who can manage the overall complications. With Bluebash's electronic prescription software system, providers, practices, and patients are supported by the industry's most connected network. To facilitate smooth and expedited workflow, Bluebash's e-prescribing software streamlines processes such as prior authorization and communication with pharmacies.
It is possible to send multiple medications just with a single order; to refill prescriptions with two clicks, using any Internet-enabled device is required. As a result, we connect your patients with thousands of pharmacies, enabling them to receive medications quickly and easily.

Final Words
Selecting the best electronic prescription software is not only about productivity and cost-effectiveness; it is also about patient safety and fulfilment. With these modern solutions for prescribing medications, Medical organizations and healthcare providers can improve their operations and provide the high-quality care that every patient deserves.
Bluebash provides the right medical billing software for your needs and budget. We recommend one of the best solutions based on pricing, features, reputation, and more. With digital prescription software, your practice's workflow can be transformed to reduce your staff's time spent on managing prescriptions which can lead to better business growth.